In addition to selecting the right wood panel for your project, it's crucial to consider proper lighting distribution. Combining wood panels with suitable lighting can completely transform the atmosphere of a space. In this article, we'll explore how to harmonize wood panels and lighting in interior design to create a cozy yet elegant environment. Read on.
Armani Casa – Project by @Oliverusa_ – Miami
The living room is a space for relaxation, so it's best to use indirect lighting to prevent glare and reflections on the TV. Just like in the Armani Casa project image, make the most of natural lighting and use recessed or ceiling fixtures and track lighting to provide indirect illumination. This approach both highlights the natural features of the wood and maintains a balanced ambiance. 
Spotlights, featuring adjustable fixtures and spots, can also be employed to accentuate wood panel details, such as grain or interesting textures. They not only serve to highlight art, sculptures, or specific areas within the space but also create focal points in the room.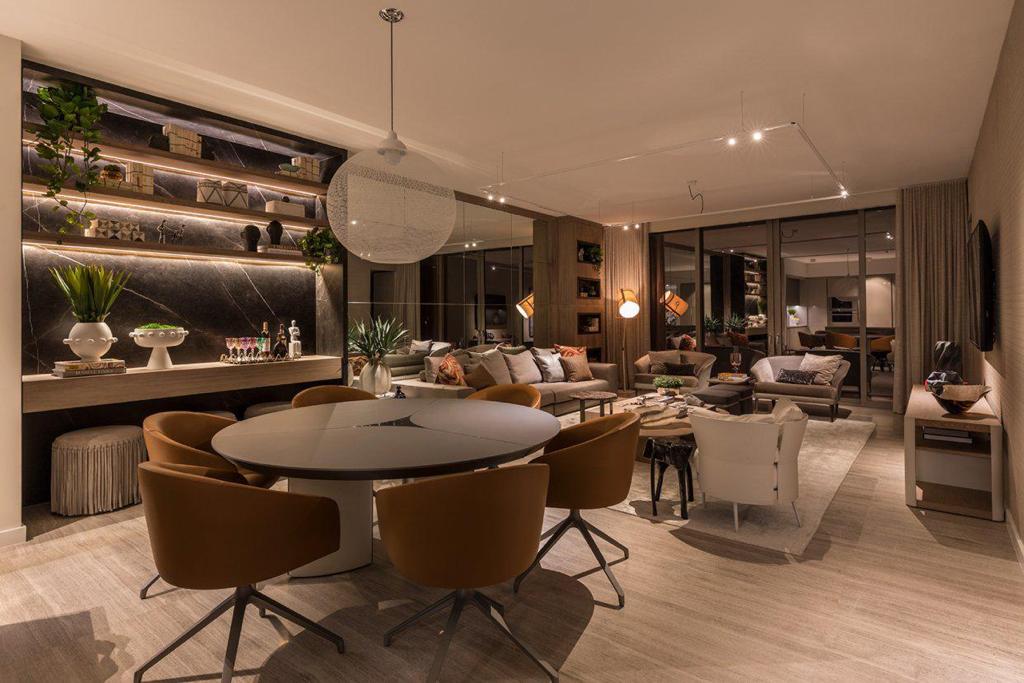 Armani Casa – Project by @Oliverusa_ – Miami
In the dining room, it's essential to centralize the lighting over the table to evenly distribute light across its surface, ensuring everyone can comfortably enjoy their meals. Chandeliers are often the best choice, with selection based on the table's style and dimensions, leaving a safe distance between the chandelier and the table surface. When using wooden tabletops, the chandelier will further accentuate their natural details.
Kitchens demand bright and evenly distributed lighting, ideal for tasks like finding and handling utensils. In cases like this project featuring the
Canovas panel
, bright white fluorescent lights illuminate the space even more. Another notable addition is LED strips applied under the cabinets, not only providing light but also adding a charming touch to the area.
For the bedroom, it's crucial to create a cozy and relaxing atmosphere. Soft and preferably dimmable lighting is recommended. In this project carried out at The Setai Hotel – Miami, the wooden panel headboard contributed to a more pleasant and welcoming atmosphere in the space. The lamps installed on the panel have an ideal height and adjustment for those who will rest, along with gentle, warm lighting that promotes relaxation as night falls.
In the bathroom, intense lighting is essential. White fluorescent lights are a common choice to ensure uniform illumination throughout the space. In the project above featuring the
Walnut Savannah
panel as a focal point, an extra touch of elegance was added by integrating lighting between the panel and the mirror using LED strips, ensuring that the reflected image remains undistorted.
Closet lighting plays a crucial role in providing both convenience and elegance to the space. Its primary purpose is to improve visibility in closets and drawers, making it easier to find desired items. For optimal visibility, it's recommended to have two types of lighting in the closet: general lighting for the entire space and spot lighting for shelves, cabinets, and drawers.
Choose Wood Tones Carefully
Harmonizing wood panels and lighting in interior design is an art that can entirely transform a space. Darker woods can create a more luxurious atmosphere, while lighter woods tend to provide a sense of space and brightness. So, remember that lighting should enhance the wood's natural beauty without overwhelming the environment.
Take the opportunity to select the ideal wood panel for your project here at Plywood Express. Send us a message using the form below to request our exclusive catalog.